Samsung today continued on with its ad campaign denigrating Apple devices, this time sharing a series of tweets highlighting Apple's lack of a foldable iPhone and pitting the iPhone 14 Pro's 48-megapixel camera against the Galaxy S22's 108-megapixel camera.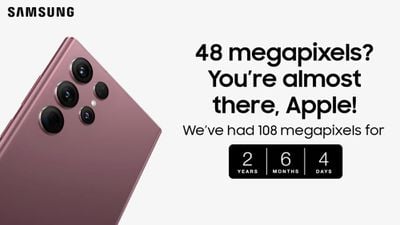 "What the Flip, Apple?" reads the first tweet, which points out the launch date of Samsung's first foldable device. The second tweet has the same first-to-foldables theme, while the third notes that Samsung devices have had higher megapixel cameras for several years.
Samsung has been sharing anti-Apple ads since before the new iPhone 14 models were announced, and the company has a long history of insulting Apple devices in order to promote its own products. "Buckle up for Apple's latest launch," said an ad released in early September. "As you enter a world where heads will turn, must none in your direction. Where the highest resolution smartphone will be in someone else's pocket."
A second "Join the flip side" ad that came out on Thursday attempted to persuade ‌iPhone‌ users to swap to the Galaxy Flip by showing a diehard ‌iPhone‌ fan lusting over foldable technology.
Samsung has in the past mocked Apple design decisions such as the removal of the headphone jack only to follow suit and make the same move a few years later. Samsung has a leg up in this case as it was first to market with foldable devices and high-resolution cameras, but it will be interesting to see if there are ‌iPhone 14 Pro‌ features that Samsung ends up adopting in the future.
Related Stories
Samsung Claims Foldable Phones Are Going Mainstream
While Apple has yet to release a foldable iPhone, Samsung is about to unveil a new series of foldables for the third consecutive year at its Unpacked event on August 10. Meanwhile, Samsung's mobile president TM Roh believes that we are already seeing the mainstream acceptance of foldable smartphones play out as consumers switch to the devices in increasing numbers. In a blog post titled "The…
Samsung Teases New Foldable Smartphones Set to Debut at August 10 'Unpacked' Event
Samsung today shared the official trailer video for its upcoming "Unpacked" event that will see the debut of the next-generation foldable smartphones, including the Galaxy Z Fold 4 and the Galaxy Z Flip 4. The Unpacked event is set to take place on Wednesday , August 10 at 9:00 am Eastern Time, and Samsung is already taking reservations for the as-of-yet unannounced smartphones. "Find out…
Hands-On With Samsung's Latest Foldable Smartphones, the Galaxy Z Fold and Z Flip
Samsung this week launched its fourth-generation foldable devices, the $1,000 Galaxy Z Flip and the $1,800 Galaxy Z Fold. Though there's no sign of a comparable Apple foldable device on the horizon, rumors suggest prototypes are in the works, so we thought we'd take a look at Samsung's newest smartphones to see what Apple needs to measure up to when a foldable iPhone does come out Subscribe …
What Would You Like to See in a Foldable iPhone?
Samsung last week announced its fourth-generation foldable phone, the Galaxy Fold 4, and as a result, some iPhone customers may be wondering about the future of a foldable iPhone. Apple is indeed working on a foldable iPhone, but details about it remain scarce and somewhat vague. We've rounded up a few notable rumors below and want to hear from you; what would you like to see in a foldable…
Samsung Launches New Galaxy Z Flip 4 and Galaxy Z Fold 4 Smartphones
Samsung today announced the launch of its next-generation foldable smartphones, including the Galaxy Z Flip 4 and the Galaxy Z Fold 4. Samsung has been producing foldable devices since 2019, so these new smartphones represent four years of development. The Galaxy Z Flip 4 features a 120Hz 6.7-inch AMOLED display and it folds out vertically. When closed, there is a 1.9-inch AMOLED display for…
Samsung Wants You to 'Join the Flip Side' Instead of Buying an iPhone 14 Pro
Following the announcement of the iPhone 14 and iPhone 14 Pro, Samsung has released a new ad that seems to be aimed at convincing iPhone customers to try out its latest Galaxy Z Flip4, which, as the name suggests – flips. The ad, titled "Join the flip side," starts with a Flip4 user showing off the device's design to what is presumed to be an iPhone user, highlighting features such as how it …
Foldable iPhone Could Finally Launch Next Year
Apple's long-rumored foldable iPhone could finally be released next year, according to multiple reports. According to display analyst Ross Young, who often provides accurate insights into Apple's plans, Apple could introduce its foldable iPhone in 2023, but he cautioned that 2024 is a more likely timeframe for the launch of the new device. Rumors about a foldable iPhone have died down in…
Popular Stories
Apple Unveils iPhone 14 Pro With Dynamic Island, Always-On Display, 48MP Camera, and More
Apple today announced the iPhone 14 Pro and iPhone 14 Pro Max, featuring the "Dynamic Island" to surface alerts and activity in a new way, a brighter display with always-on functionality, the A16 Bionic chip, a more advanced camera system, new color options, and more. The iPhone 14 Pro and iPhone 14 Pro Max offer the "Dynamic Island" thanks to a redesigned TrueDepth camera array that takes…
Dynamic Island: First Look at iPhone 14 Pro's New Pill-Shaped Cutout
Apple today introduced the iPhone 14 Pro and iPhone 14 Pro Max with a new pill-shaped cutout called the "Dynamic Island," which Apple says provides "a rich and delightful new way to interact with activities, alerts, and notifications" on the devices . With a combination of hardware and software, the Dynamic Island can morph into different shapes and sizes for things such as incoming phone…
Apple Event Live Blog: iPhone 14, Apple Watch, AirPods Pro, and More Expected
Apple's "Far Out" event kicks off today at 10:00 am Pacific Time, where we're expecting to see the iPhone 14 lineup, several new Apple Watch models, updated AirPods Pro, and perhaps some other announcements. Apple is providing a live video stream on its website, on YouTube, and in the company's TV app across various platforms. We will also be updating this article with live blog coverage…
Apple Removes SIM Card Tray on All iPhone 14 Models in US
Apple today announced that all iPhone 14 models sold in the US do not have a built-in SIM card tray and instead rely entirely on eSIM technology. Tech specs on Apple's website confirm the iPhone 14, iPhone 14 Plus, iPhone 14 Pro, and iPhone 14 Pro Max are not compatible with physical SIM cards and instead have dual eSIM support, allowing for multiple cellular plans to be activated on a…
Apple Unveils Apple Watch Ultra With Large-Screen Design for Athletes and Explorers
Apple at its "Far Out" media event today announced the Apple Watch Ultra, a new feature-rich smartwatch for athletes and explorers, coming with an all-new design, a large flat sapphire crystal display, an additional programmable Action button, and cellular the standards. The 49mm titanium case has the brightest Apple Watch display yet at 2,000 nits – two times brighter than previous models …
Everything Announced at Today's Apple Event in Just 11 Minutes
Apple today held its annual iPhone-centric event, debuting the iPhone 14, iPhone 14 Plus, iPhone 14 Pro, and iPhone 14 Pro Max. Apple also introduced the new Apple Watch Series 8 models, a revamped version of the Apple Watch SE, the Apple Watch Ultra, and the AirPods Pro 2. Subscribe to the MacRumors YouTube channel for more videos. It took Apple more than an hour and a half to introduce all…
Apple to Release iOS 16 and watchOS 9 on September 12
Apple today announced that iOS 16 and watchOS 9 will be available to all users with compatible iPhone and Apple Watch models on Monday, September 12. iOS 16 was first previewed by Apple in June, and over the last several months, it has been beta testing with app developers and members of the public beta program. iOS 16 is a significant release, with major features including an entirely…
Garmin Reacts to Apple Watch Ultra: 'We Measure Battery Life in Months. Not Hours.'
Garmin has reacted to Apple's new rugged Apple Watch Ultra, saying in a tweet following the iPhone 14 and Apple Watch event that it measures battery life in "months" and "not hours," promoting its latest Enduro 2 watch for athletes. While the Apple Watch Ultra has the longest battery life of any Apple Watch to date, with Apple promising up to 36 hours of normal use and up to 60 hours with…